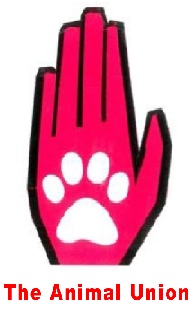 Rescue Group Requirements
To Receive Funds Through The Animal Union
The Animal Union is a nonprofit umbrella organization formed to raise funds and apply for grants collectively for the San Francisco Bay Area's all-volunteer, nonprofit animal rescue, adoption and welfare organizations.
Animal welfare and rescue organizations that wish to benefit from membership in The Animal Union will not need to change their own day-to-day operations or ongoing fundraising operations, mailing lists, pool of volunteers, etc. However, they have the option of relying on The Animal Union for grant applications and supplementary fundraising.
Geographical Area
For our purposes "Bay Area" encompasses the following nine counties: Alameda, Contra Costa, Marin, Napa, San Francisco, San Mateo, Santa Clara, Solano and Sonoma. This list may change as we negotiate further with grantors and continue to evaluate potential grantees.
Eligibility
To be considered eligible to apply for funding through The Animal Union animal rescue/welfare organizations must be all-volunteer 501(c)(3) organizations. This initial eligibility will be determined by The Animal Union's analysis of the latest IRS Form 990 submitted by each nonprofit and published on the GuideStar website, the IRS-approved site for nonprofit tax returns. New or small organizations that do not have their tax return posted on GuideStar may submit a paper copy of their latest return.
Documentation
To receive funds through The Animal Union, animal welfare and rescue organizations will need to provide the following documents and data for their latest fiscal year or for the previous 12 months, unless such information is not relevant to a specific group:
This document, signed and returned to The Animal Union
A copy of the nonprofit's 501(c)(3) award letter.
The number of animals rescued from San Francisco Bay Area animal shelters
The number of animals rescued from animal shelters outside the San Francisco Bay Area
The names and locations of shelters from which animals have been rescued
The number of rescued animals from sources other than shelters and the classification of those sources, e.g., members of the public
The number of rescued animals adopted or permanently placed
The number of rescued animals housed or fostered temporarily or indefinitely
The number of rescued animals returned to shelters and the reason for their return
The number of rescued animals euthanized and the reasons for those euthanasias.
For each rescued animal for whom a grant is sought: the itemized expenses for veterinary treatment or behavior modification regimens, medications, supplies, equipment and any other costs incurred by the rescue organization in making the animal available for adoption or placement
Animal Union personnel will be happy to assist each organization with the compilation of such data.
The Animal Union will convert data received into whatever form is required by potential grantors, such as the Asilomar Accords reporting requirements.
Wildlife Welfare Organizations
Since wildlife rescue, sanctuary and rehabilitation organizations do not rescue companion animals The Animal Union will track their effectiveness based primarily on the percentage of their budgets spent on their organizational purposes as listed in their articles of incorporation or in their narrative description of activities, Part IV of their IRS Form 1023, their original application for tax-exempt status. Another criterion will be the average number of hours a week worked by volunteers. These benchmarks will be compared to industry or peer standards to help determine the nonprofit's effectiveness. Organization size and the number of animals returned to their habitats will carry less weight.
The AU will also consider other criteria of effectiveness among wildlife rescue groups on a case-by-case basis, with reasonable feedback from the wildlife rescuers themselves. We will also take into account the relative urgency of each organization's financial condition. At any rate, such nonprofits will be just as eligible for funding through The Animal Union as companion animal nonprofits.